Busy October for Rotary Club of Pisgah Forest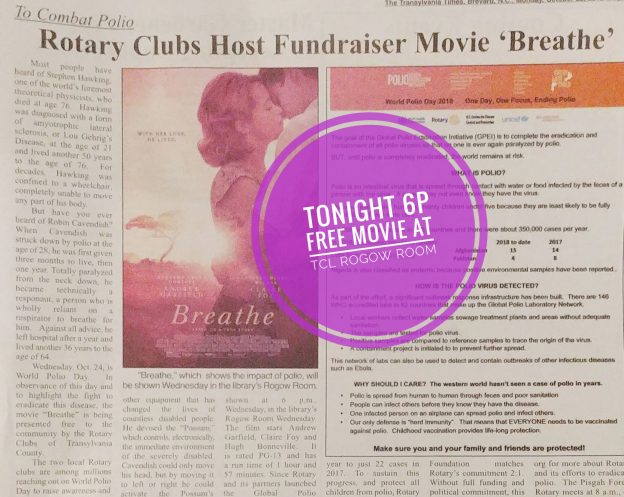 This month the Rotary theme is Economic & Community Development.  We've had some great speakers and appreciate the focus on community.  On Sunday October 14, several Pisgah Forest Rotarians joined Brevard High School Interact students at the Brevard CROP Hunger Walk. The 3.1 mile walk raised money to help end hunger in Transylvania County and around the world.  Brevard's annual "Crop Walk" benefits Sharing House locally (25%), and national/international situations of hunger crisis (75%).  The Interact students were busy again helping the community at the downtown Halloweenfest on Sat. Oct. 27 selling cake pops!  Thank you Interactors!
At the Crop Walk:
Wednesday, October 24 was World Polio Day.  Our PolioPlus Chair Mary Scott Christfield provided background and information on polio eradication and all the work Rotary is doing to stamp out Polio. To support World Polio Day the Rotary Clubs of Brevard and Pisgah Forest partnered to present the feature movie Breathe at the Transylvania County Library.  The movie tells the  story of Robin Cavendish who was struck down by polio at age 28, left the hospital after one year, and lived an inspiring life helping others.  Here's a link to more information on Rotary's work with PolioPlus.
Rotarians attend the movie Breathe at the library.