Busy Wednesday Meeting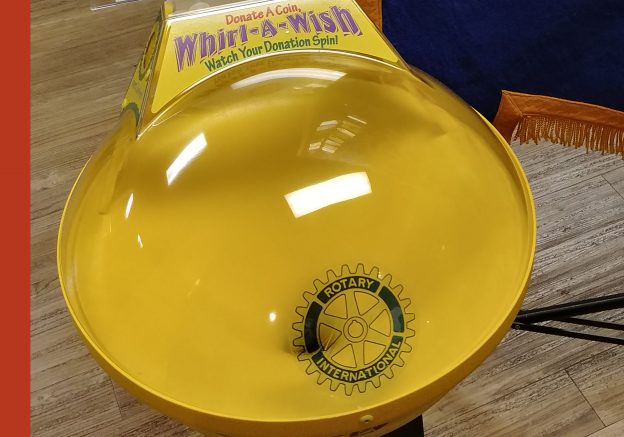 What a packed agenda for our Wednesday breakfast meeting on September 6.  So nice to see everyone, celebrate, hear updates, and the unveiling of a very nifty fundraiser tool!
President Jim Cruickshank inducted our newest member, new Rotarian Loren Snyder.  Loren's sponsor is Joe Castro.  Welcome Loren!
Next, President Jim awarded two Paul Harris Fellows – both the recipients are multiple Paul Harris Fellows.  Congratulations Mary Scott Christfield and Bill Riecke.  Thank you for your continued contributions to the Annual Program Fund, the Polio Plus Fund and the Humanitarian Grants Program of the Rotary Foundation.
The speaker for the meeting was Toby Huter, our 2017 Youth Exchange Student to South Korea.  What an informative and engaging presentation.  Toby spoke to our club last year before her trip. It was great to hear and share in her experience.  Thank you Toby!
Finally, back to the nifty fundraiser tool – courtesy of our President Nominee Chris Biecker.  What an idea he developed as a fun way to create awareness and funds for the important cause of finding a cure for Alzheimer's.  So many individuals and families are touched by this disease.  Rotarians are helping to find a cure via CART – Coins for Alzheimer's Research Trust – for cutting edge research to find a cure.  Chris and fellow Rotarian Dolores Littleson, this year's CART Chair for the club, unveiled the "Whirl-a-Wish".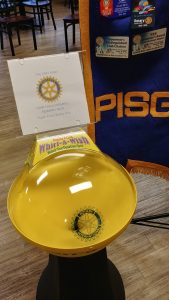 Meet the "Whirl-a-Wish" – drop a coin in the slot and watch it roll down the whirlwind tunnel!  The coins will be collected and Rotary Club of Pisgah Forest will donate to Rotary District 7670 CART Fund along with our other club member contributions to CART.  The Whirl-a-Wish will be placed in businesses around Transylvania County.  This week it is at First Citizens Bank in downtown Brevard on S. Broad Street.  Check back to see where it will be next.  Thank you Chris for developing this creative tool for such a worthwhile cause.