District Governor Visits Transylvania County Rotary Clubs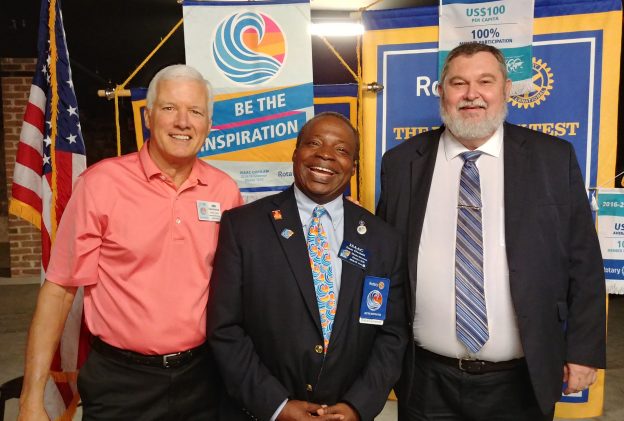 (Brevard, NC) Isaac Owolabi, District Governor of Rotary District #7670 made two visits to Transylvania County the week of August 13.  Owolabi represents 48 clubs and over 2,200 members in this Rotary district that includes Transylvania County.  He visited the Brevard Rotary Club's Tuesday noon meeting and the Rotary Club of Pisgah Forest's Wednesday breakfast meeting.
Paul Hoffman, President of the Brevard Club says, "It's an honor to have Governor Isaac here today.  He's an inspiration to all of us and his positive energy and commitment to Rotary is contagious."  At each meeting, Owolabi shared this year's Rotary theme, "Be the Inspiration."  He asks all Rotarians to be the inspiration in their communities.  He spoke of the Rotary commitment to eradicating polio and the pride that each Rotarian should feel for the progress that has been made.  This has been a priority for Rotary International since 1985 when Polio Plus was launched to rid the world of polio.  Year to date, there are fewer than 15 cases worldwide.  Each dollar raised via Rotarians to eradicate polio is matched by two dollars from the Bill and Melinda Gates Foundation.
District Governor Owolabi went on to discuss the importance of big goals including that of increasing membership.  He encourages each Rotarian to bring in a new Rotarian this fiscal year.
He also emphasized the importance of Rotary youth programs like Interact clubs (high school), Rotaract (ages 18-29) and Rotary Youth Leadership Academy (RYLA) – a weekend leadership camp for students to be held in March 2019.  During the Brevard meeting, Trina Huynh was introduced.  She is a Brevard High School student who will spend the school year in Japan as a Rotary Youth Exchange student.  She is also a member of the Brevard High School Rotary Interact club.
Each Rotary club engages in service projects – those right here in Transylvania County and those with an international focus such as clean water programs, providing medical services and student exchange programs.
Owolabi shared the vision of Rotary and stressed the importance of each member fulfilling that vision: "Together, we see a world where people unite and take action to create lasting change — across the globe, in our communities, and in ourselves." 
Owolabi will serve as District Governor of Rotary District #7670 through June 30, 2019.  He is a member of Rotary Club of Asheville-Biltmore and a professor of Business at Montreat College.
Rotary International, the world's first service club organization, consists of over 32,000 clubs in more than 200 countries and geographical areas.  Strong fellowship among Rotarians and meaningful community and international projects characterize Rotary worldwide. Brevard Rotary Club meets on Tuesday at 12 pm at the DFR Room in downtown Brevard.  Rotary Club of Pisgah Forest meets on Wednesday mornings at 8 am at the Pisgah Fish Camp.   Visitors are welcome at club meetings.  For more information visit or www.brevardrotary.org or www.pisgahforestrotary.org.