Welcome to the Rotary Club of Pisgah Forest
Rotary Club of Pisgah Forest is one of 33,000 Rotary Clubs worldwide. We are in Rotary District 7670 in Pisgah Forest, Transylvania County in Western North Carolina. On June 2, 2017 the club celebrated 20 years of member service and positive action in our community and beyond. Come and experience Rotary Club of Pisgah Forest – known for great fellowship, positive action and service, and a great breakfast with educational and engaging speakers.
Learn more about our Rotary District 7670 and Rotary International. Our club supports local and international service projects. Our primary fundraiser is Assault on the Carolinas. The 21st annual event is April 4, 2020, here in Transylvania County.
This year the Presidential theme is Rotary Opens Opportunities.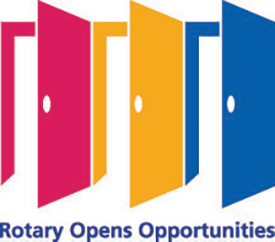 2019 - 20 Officers and Avenues of Service Directors
President: John Krishingner
President Elect: Rik Emaus
Secretary: Dorothy Knowles
Treasurer: Jim Cruickshank
Immediate Past President: Jim Cruickshank
Community: Sarah Hankey
Youth:Rik Emaus
Vocational: Abe Pallas
International: John Brown
Club: Dana Garrett
Speakers: Penny Colman-Crandal
The CART Fund:Charlotte Snelson
Grants: Chuck Megown
Interact: Ann Farash & Cindy Donaldson
Membership: Penny Colman-Crandal
Polio Plus: Mary Scott Christfield
Public Relations/Image: Cindy Donaldson
Programs: Penny Colman-Crandal
The Rotary Foundation: Martine Stolk
Sergeants-at-Arms: Mark Gibson & Alice Gibson
The Honker (Newsletter) Editor: Abe Pallas
Assault on the Carolinas: John Buford
Meeting Information
Great fellowship with educational and inspiring speakers. Join us for a fun morning meeting.
Rotary International
President: Holger Knaack Rotary Club of Herzogtum Lauenburg-Molin, Germany
Rotary District 7670
Governor: George David Waechter, Rotary Club of Lenoir
Governor Elect: Ken Shull, Rotary Club of Tryon
Governor Nominee: Tammy Mosteller, Rotary Club of Lincolnton-Sunrise
Assistant District Governor: Nick Bearden, Rotary Club of Pisgah Forest
Recent Blog Posts